Premio "Friedel-Volterra"
Per onorare la memoria di Vito Volterra e Jacques Friedel, la Società Italiana di Fisica (SIF), insieme alla Société Française de Physique (SFP), bandisce un premio per un fisico attivo nella collaborazione italo-francese, in riconoscimento di risultati rilevanti del suo lavoro di ricerca in Fisica negli ultimi 10 anni.
Il premio è stato congiuntamente istituito nel 2016 dalle due Società allo scopo di commemorare le figure dei due insigni scienziati e di consolidare le relazioni tra le due Società. Il premio sarà conferito annualmente e sarà alternativamente bandito dall'una o dall'altra Società.
Elenco dei premiati
Premio Friedel-Volterra 2023
Vincitore

Silvano DE FRANCESCHI

Motivazione

For exploring new device operation principles based on quantum mechanics, and more specifically for performing the first hole spin qubit compatible with the silicon technology.
Premio Friedel-Volterra 2022
Vincitore

Pasquale Dario SERPICO

Motivazione

For seminal and extremely diverse contributions to the theory and phenomenology of particle cosmology and high-energy astroparticle physics.
Premio Friedel-Volterra 2021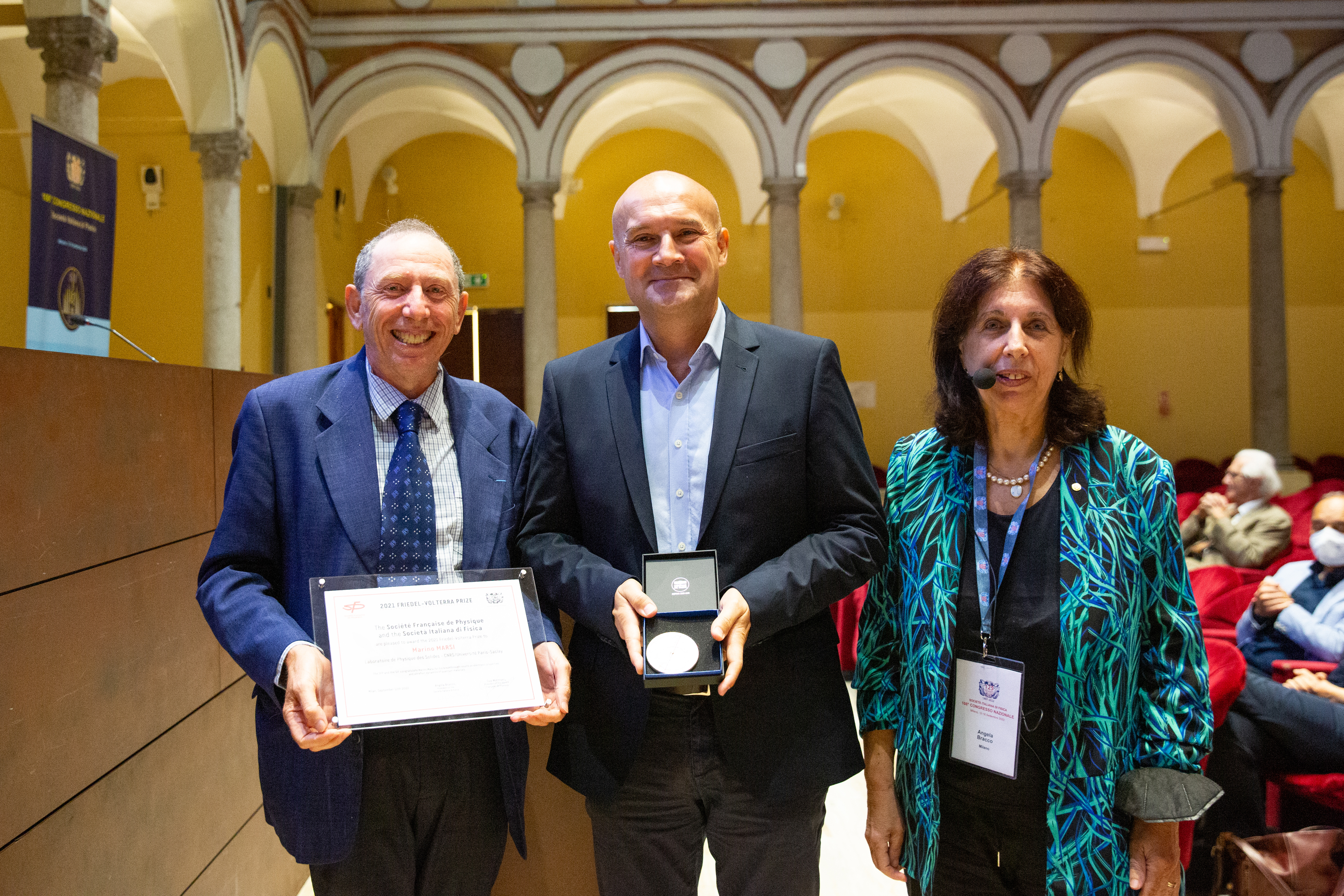 Vincitore

Marino MARSI

Motivazione

For for his breakthrough  results on electronic properties and ultrafast dynamics of quantum materials.
Premio Friedel-Volterra 2020
Vincitore

Miriam Serena VITIELLO

Motivazione

For her important experimental research in the field of light-matter interaction phenomena, two-dimensional nano-materials, micro and nano systems, nano- photonics, quantum optics, far-infrared photonics. In particular for the development of innovative devices in the terahertz frequency range.
Premio Friedel-Volterra 2019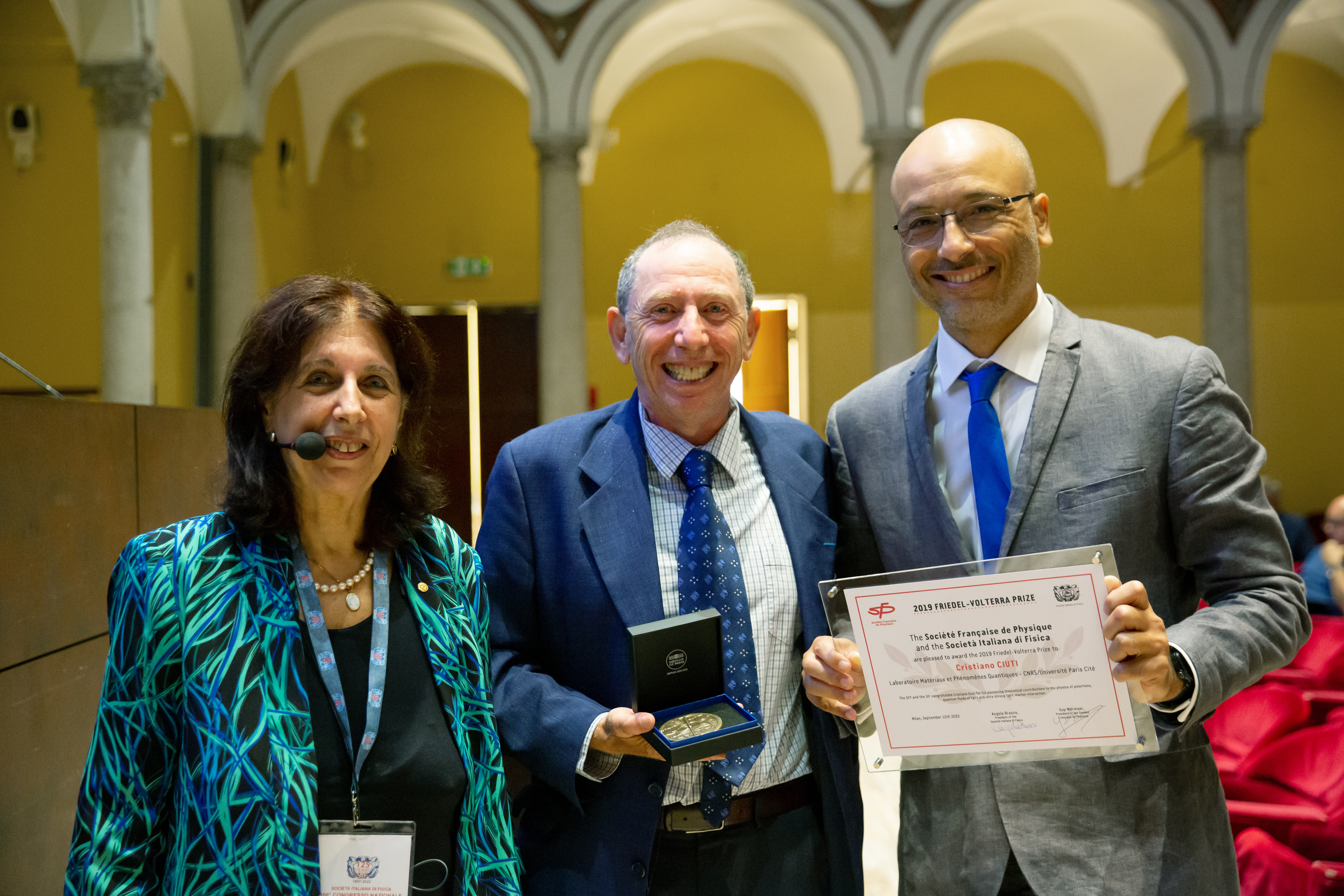 Vincitore

Cristiano CIUTI

Motivazione

For outstanding contributions to light-matter interactions and cavity quantum electrodynamics in the ultrastrong coupling regime.
Premio Friedel-Volterra 2018
Vincitore

Francesco SETTE

Motivazione

For outstanding scientific results thanks to exceptional instrumental innovations using synchrotron radiation and for being the conceiver and the promoter of the ESRF upgrade program to transform the European Synchrotron Radiation Facility (ESRF) into a synchrotron light source with the highest ever brilliance in the world and upgraded beam lines that will allow unprecedented scientific and technical features for X-ray experiments.
Premio Friedel-Volterra 2017
Vincitore

Dimitri BATANI

Motivazione

For the outstanding contributions in laser plasma interaction related to inertial confinement fusion.
Premio Friedel-Volterra 2016
Vincitore

Gabriele VENEZIANO

Motivazione

Per aver contribuito alla nascita della teoria delle stringhe e per aver aperto la strada alle sue applicazioni alla cosmologia primordiale, il Big Bang, e alla questione dell'origine del tempo.